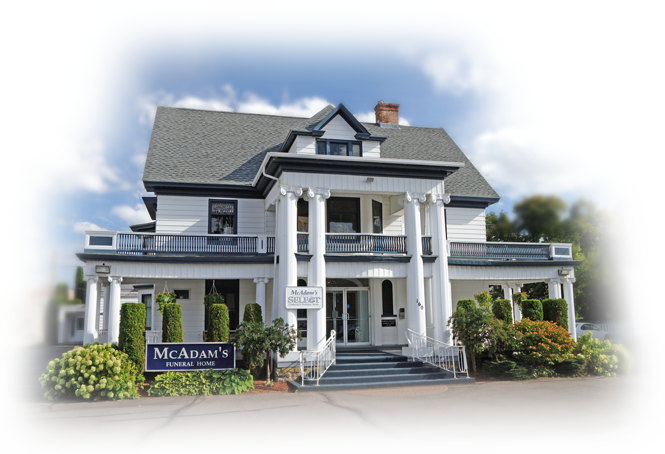 Constructed as a single family home in the latter part of the nineteenth century our building at 160 York Street was nearly destroyed by fire in 1919 but the Vanbuskirk family who had purchased and renovated it in 1909 had it fully restored. Resting in the heart of downtown Fredericton it has been a funeral home since the 1960s, but we are proud that it retains much of the style and character of the elegant private home it was originally designed to be.
While we're pleased that our business has been able to play a role in preserving this wonderful example of our community's architectural heritage we are equally gratified when those we serve tell us that our building is warm and comfortable - more like the home it once was than a business. We know that when our neighbours are spending time here with us, they are passing difficult hours - we make every effort to ease those times with familiar, safe and comforting surroundings.
We are grateful to noted architect, author and art historian John Leroux for sharing some of his extensive knowledge of Fredericton architecture and his expert insights into the significant features of our building.

The Architecture
This grand former single family dwelling at 160 York Street has roots that date back to 1871, but owes its current architectural design and presence to a substantial 1909-1910 renovation when it took on its current Beaux-Arts Classical design. If you look carefully, you can easily discern the still-visible squared volume of the original 2-storey house, with its large gable roof parallel to York Street.
This outstanding house features an enormous portico of six massive wooden Ionic columns, a banded entablature, a deep verandah and second floor ballustraded balcony running the entire width of the house, bay windows, and deep roof eave cornices. The detailed interior is wonderfully rich and maintains much of the original character, including: a marvelous stairway with multiple landings, ballusters and newel posts; leaded beveled glass windows; ornate crown molding and coffered ceilings; carved columns; deep-paneled wainscoting; and wide window and door trims. Decorated fireplaces with wooden mantles sit gracefully in each room.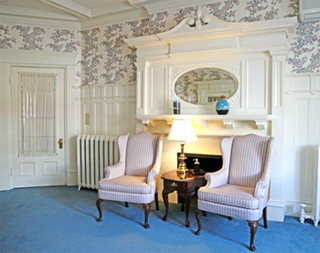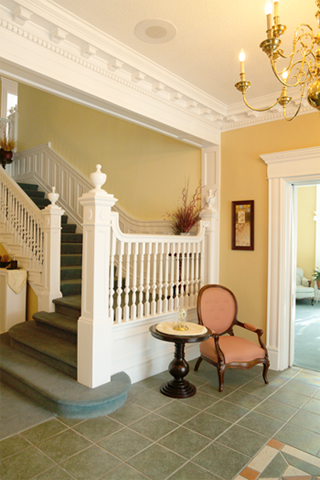 The Beaux-Arts Classical Style was popular between 1890 and 1920 throughout North and South America, Europe, and in larger centres throughout much of the rest of the world. Its gestures are massive and bold, characterized by large and grandiose buildings with an exuberance of detail inspired by Classical Roman and Greek temples. Highlights include projecting facades or porticos with colossal columns often grouped in pairs capped with a pedimented entablature, rich bands of mouldings and pronounced cornices, balustrades, and richly decorated interiors with stained woods, ornamental plasterwork and stained glass. The style's name derived from the École des Beaux-Arts in Paris which was the most highly regarded architecture school in the World at that time and which emphatically encouraged this extravagant approach to design.

The Leaded Glass
The late nineteenth and early twentieth Century witnessed something of a turning point for adherence to pure colour insofar as architectural decorative glass went. As the ornamental abundance of the preceding Gothic Revival waned, a cleaner opposite approach to coloured stained glass became extremely popular in the form of panels of clear beveled glass. With the upsurge in the Beaux-Arts Classical style, an aesthetic of harmony, orderly surfaces, and "whiteness" became paramount; the latter made widespread by the Classically-inspired Beaux-Arts "White City" of the 1893 Chicago World's Fair.
Beveled glass is made by taking thick, clear glass and creating a half- to one-inch angled bevel around the entire periphery of the piece. Dramatic visual effects are created as the bevels act as prisms, diffracting the incoming sunlight into a spectrum of colours. Fredericton's late nineteenth- and early Twentieth-Century examples almost always involve a combination of intricately shaped beveled pieces and flat glass sections, all in a common leaded matrix. This mosaic-like approach where the leadlines gave almost limitless decorative possibilities became very popular throughout larger panels in main doors, sidelites, picture window transoms and piano windows.
Gorgeous instances of beveled glass can be found in many Fredericton houses, with 160 York Street being one of the most compelling examples.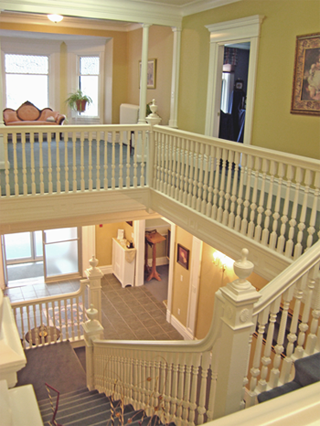 OROMOCTO
funeral home


108 Winnebago Street
Oromocto, NB
E2V 1C7
Ph: 506-357-5100
E-mail: Oromocto@McAdamsFH.com